Posted by MattPetty on 30 Jan 2009 at 12:49 pm | Tagged as: Uncategorized
This "flyer" has been 2 years in the making. Originally drawn in Black and white from my favorite tattoo artist/drifter and all around wicked dude David "Stay Gold" Shoemaker. It was supposed to come out last year but we couldn't get it done in time. It seems to me that all Graphic designers are slacker's…Especially when they aren't getting paid. But clubloose's own Jeff Turner came to the rescue coloring/arranging this amazing flyer. This lists all clubloose's events at Raceway Park for 09′. But be sure to check the site. Because we have more than just this in store for 09. New Venue's and New Rippers!
Here it is in all its glory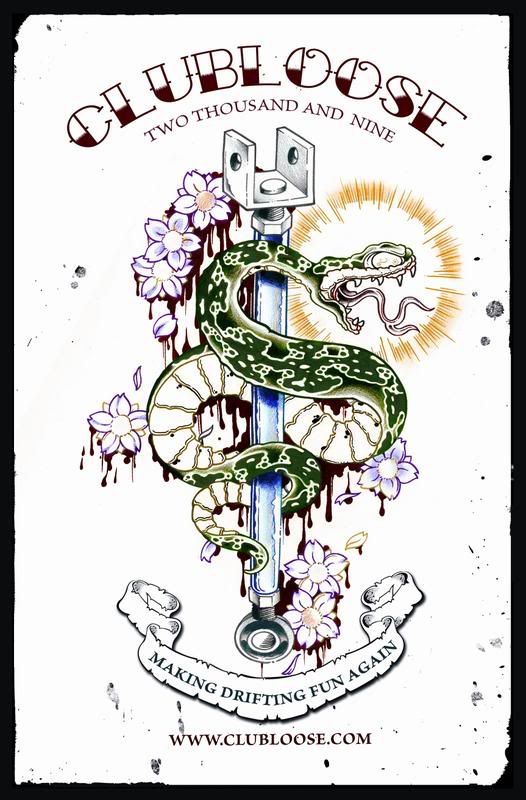 I want to thank Dave And Jeff for putting this together.
Hope to see you all at the track and look for the printed version to be hitting the streets in Limited numbers!
7 Responses to "Clubloose Does…..A schedule!"



CLUB LOOSE DA BEST!
Kick ass "flyer" too!




3 East Coast Bash's?!! Hell yeah!! Can't wait!!




Awesome!! Cant wait for these!!!!




what's a club loose? is he brown? let 'em in.

on 04 Feb 2009 at 5:53 am #

Jahdan




That flyer is crazy, i need a sticker of that on my car like now!!

on 07 Apr 2009 at 11:47 am #

Eddihughes




I'm lovin it!




Just wanted to say you have a great site and thanks for posting!
Leave a Reply